Doctors & Staff
Meet the experienced and friendly doctors and staff who make Inlet Eye Associates a proud provider of vision care products and services in Murrells Inlet.
Joseph Ledford, O.D.
Born in Columbia, SC when his family was stationed at Fort Jackson, Dr. Ledford moved around a good bit while growing up with his five siblings. Upon graduating high school, Dr. Ledford returned to his birthplace to attend the University of South Carolina, before then moving to Chicago for Optometry School. After graduating, Dr. Ledford did a residency in Advanced Ocular Disease at OMNI Eye Services of New York/New Jersey, and stayed on as an associate before moving to the grand strand in the summer of 2011, and ultimately opening Inlet Eye Associates in January 2020. In his free time, Dr. Ledford loves to travel, play with his pets, spend time with his family, try exotic foods, and experience everything life has to offer.
Dr. Ledford has been awarded the Distinguished Service Award for 'Unusually significant contributions and outstanding achievements contributing to the advancement of Optometry'.
---
Brittany – Ophthalmic Tech
Brittany Laird is a born and raised local who travelled early in life, but ultimately always returned to her first home, the Grand Strand. In her free time, Brittany enjoys music and arts, gaming, and spending time with her family and pets. She has spent most of her own life wearing glasses, starting when she was just two years old, and now Brittany has been involved in the eye field since late 2018. She enjoys caring for patients and the learning experience that optometry has provided throughout the years.
---
Hector- Front Desk
---
Michelle- Office Manager
---
Elizabeth- Licensed Optician
Born and raised in Georgetown, SC, Elizabeth Davis is a local to our area. She has been practicing opticianry since 2002 and is a South Carolina licensed optician. She holds a Bachelor of Arts Degree from Coastal Carolina University and is a children's book author as well (look for "Foxie the Doxie" and "Do You Like Snakes?") Married with two children, she enjoys spending time with both family and friends. She loves animals and nature! Elizabeth is adventurous and loves traveling with her family to explore the outdoors, especially snorkeling with Manatees.
---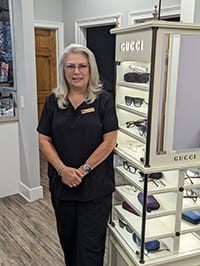 Gail- Optician
Gail relocated to the Carolina's several years ago from NE Ohio with her husband and beach-loving rottweiler. She brings with her over 30 years experience as a Licensed Dispensing Optician. Her expertise is in frame selection, fit, and style and can help guide you through the process of lens options and insurance coverage, maximizing your benefits while producing the best product for your visual needs. In her free time, Gail enjoys cruisin' the Carolina coast, exploring historical sites along the way, and spending time with their 2 precious granddaughters. Feel free to come by Inlet Eye Associates and let Gail show you the latest in designer eyewear.
---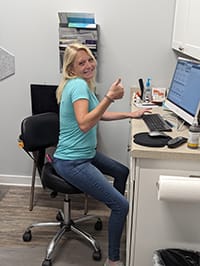 Brittany T- Ophthalmic Tech
---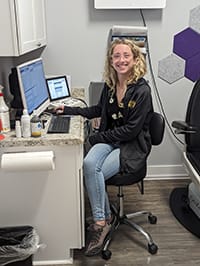 Hannah- Ophthalmic Tech
---